THE ULTIMATE GIFT
By Jim Stovall
Published by River Oak
ISBN-10: 0781445639
156 pages

Exerpts from the book:
In the end, a person is only known by the impact he or she has on others.

THE GIFT OF WORK – HE WHO LOVES HIS WORK NEVER LABORS.
"I learned the satisfaction that comes from a simple four-letter- word: WORK. One of the things my wealth has ROBBED from you and the entire family is the privilege and satisfaction that comes from doing an honest day's work.."

THE GIFT OF MONEY – MONEY IS NOTHING MORE THAN A TOOL. IT CAN BE A FORCE FOR GOOD, A FORCE FOR EVIL, OR SIMPLY BE IDLE.

…"There is absolutely nothing that can replace money in the things that money does, but regarding the rest of the things in the world, money is absolutely useless."

THE GIFT OF FRIENDS – IT IS A WEALTHY PERSON, INDEED, WHO CALCULATES RICHES NOT IN GOLD BUT IN FRIENDS.

FRIEND is a word that is thrown around far too easily by people who don't know the meaning of it. Young man, you're lucky if you live as long as I have and can count your real friends on the fingers of both hands.

THE GIFT OF LEARNING - EDUCATION IS A LIFELONG JOURNEY WHOSE DESTINATION EXPANDS AS YOU TRAVEL.
"Learning is a process. "

THE GIFT OF PROBLEMS - PROBLEMS CAN ONLY BE AVOIDED BY EXERCISING GOOD JUDGEMENT. GOOD JUDGEMENT CAN ONLY BE GAINED BY EXPERIENCING LIFE'S PROBLEMS.
"When we can learn from our own problems, we begin to deal with life. When we can learn from other people's problems, we begin to master life.

THE GIFT OF FAMILY - SOME PEOPLE ARE BORN INTO WONDERFUL FAMILIES. OTHERS HAVE TO FIND OR CREATE THEM. BEING A MEMBER OF A FAMILY IS A PRICELESS PRIVILEGE WHICH COSTS NOTHING BUT LOVE.
"Families give us our roots, our heritage, and our past. They also give us the springboard to our future. Nothing in this world is stronger than the bond that can be formed by a family. That is a bond of pure love that will withstand any pressure as long as the love is kept in the forefront.

THE GIFT OF LAUGHTER - LAUGHTER IS GOOD MEDICINE FOR THE SOUL. OUR WORLD IS DESPERATELY IN NEED OF MORE SUCH MEDICINE.
The gift of laughter is the ability to look at yourself, your problems, and life in general, and just laugh.

THE GIFT OF DREAMS - FAITH IS ALL THAT DREAMERS NEED TO SEE INTO THE FUTURE

Dreams are the essence of life – NOT AS IT IS, BUT AS IT CAN BE. Dreams are born in the hearts and minds of very special people, but the fruit of those dreams becomes reality and is enjoyed by the whole world.

THE GIFT OF GIVING - THE ONLY WAY YOU CAN TRULY GET MORE OUT OF LIFE FOR YOURSELF IS TO GIVE PART OF YOURSELF AWAY.

THE MORE YOU GIVE, THE MORE YOU HAVE. ABUNDANCE CREATES THE ABILITY TO GIVE; GIVING CREATES MORE ABUNDANCE. I don't mean this simply in financial terms. This principle is true in every area of your life.

THE GIFT OF GRATITUDE - IN THOSE TIMES WHEN WE YEARN TO HAVE MORE IN OUR LIVES, WE SHOULD DWELL ON THE THINGS WE ALREADY HAVE. IN DOING SO, WE WILL OFTEN FIND THAT OUR LIVES ARE ALREADY FULL TO OVERFLOWING..

"During what, at the time, I considered to be some of my worst experiences, I gained my fondest memories."

"I have always found it ironic that the people in this world who have the most to be thankful for are often the least thankful, and somehow the people who have virtually nothing, many times live lives full of gratitude.

THE GIFT OF A DAY - LIFE AT IT'S ESSENCE BOILS DOWN TO ONE DAY AT A TIME. TODAY IS THE DAY!!!

If we can learn how to live one day to it's fullest, our lives will be rich and meaningful.

THE GIFT OF LOVE - LOVE IS A TREASURE FOR WHICH WE CAN NEVER PAY. THE ONLY WAY WE KEEP IT IS TO GIVE IT AWAY.

THE ULTIMAGE GIFT - IN THE END, LIFE LIVED TO IT'S FULLEST IS IT'S OWN ULTIMATE GIFT
Now I know why God made me and put me on this earth. I understand the purpose for my life and how I can help other people find their purpose."

These are just some of the many tresures you will find in this book. My heart was so touched by this story. It is something I want to re-read several times a year. Each chapter starts out with the Gift of… (like I have listed above) and then the gift is explained. He also has the quote after the gift like I have listed. When you consider that the author of this book is blind. The book has that much more impact on me as a seeing individual. This author goes beyond what eyes can see and talks to my soul. Jim Stovall came out with the sequel to this book in 2007 called "The Ultimate Life". I can't wait to read that book as well. The Ultimate Gift is a must read for everyone.
Posted by

Nora StLaurent
at 1:45 PM
0 comments


MOSAIC
by Amy Grant
I was pleasantly surprised by Amy Grant's first book..I guess I expected a kind of kiss and tell book. I'm glad that it is different than I thought it would be. This is definitely a book only Amy could write - I Love her style. She writes about little snap shots from her life and how she has felt about some situations she's gone thru. For example meeting Princess Diana and singing for the Bush family on their yacht. Not something you do every day for sure.
She talks about great blessings and amazing things that have happened to her and how the Lord has touched her life in many ways. Sometimes she shares how and why she wrote some of her songs. Throughout the book there are words to her music and some poems and thoughts from her journals.
At the end of the book she gives a time line of her career. It is actually amazing to read; it begins in 1975 when she started playing the guitar, 1976 her first public performance and goes way beyond that. It is truly astounding all she has experienced in her life in such a short time. She mentions some of her special days and some of her really sad moments. All and all she is very thankful for what the Lord has done in her life.
She was VERY CAREFUL not to mention anything about her previous marriage and or say anything about Gary Chapman (her x-husband) period the end. She did give Gary Chapman credit where credit was due on a song they wrote (something like that). She gushes about Vince Gill her current husband all thru the book but is not too detailed there either. This is a book about the girl next store (Amy Grant) that shares parts of her life with you as if you are sitting down with her in your living room drinking coffee and having a great time. I really liked that about this book.
Posted by

Nora StLaurent
at 11:58 PM
0 comments


JUST BEYOND THE CLOUDS
Sequel to A Thousand Tomorrows
By Karen Kingsbury
Published by Center Street, Sept 14, 2007
ISBN-10: 1-59996-677-2
Description:
Still aching over his wife's death, Cody Gunner can't bear the thought of also letting go of his Down syndrome brother, Carl Joseph. Cody wants is brother home, where he will be safe and cared for, not out on his own in a world that Cody knows all to well can be heartless and insecure. So when Carl Joseph's teacher, Elle, begins championing his independence, she finds herself at odds with Cody. But even as these two battle it out, they can't deny the instinctive connection they share, and Cody faces a crisis of the heart.
What if Elle is the one woman how can teach Cody that love is still possible? If Cody can let of his lingering anger, he might just see that sometimes the brightest hope of all lies JUST BEYOND THE CLOUDS.
Review:
I loved that this story which in part is written in the voice of Carl Joseph. This is not a typical Karen Kingsbury story; you enter into Carl Joseph world. My heart was deeply touched in a good way in how the author shows God's love through the eyes of a child. It was lovable and fun. I highly recommend this book.
Nora St.Laurent
Book Club Servant Leader
Posted by

Nora StLaurent
at 11:46 PM
0 comments


Posted by

Nora StLaurent
at 11:38 PM
0 comments


WHAT LIES WITHIN
Karen Ball
Multnomah
ISBN#978-1-59052-415-2
Back Cover
Kyla Justice owns one of the most critically acclaimed, commercially successful construction companies in the Pacific Northwest. And yet, something is missing. When she's asked to build a center for inner-city kids, she finally realizes what's lacking; purpose. Now nothing can stop her, not supply problems, gang opposition, or her boyfriend's request to sell her business and marry him. And most especially not that disagreeable Rafael Murphy.
Rafe Murphy understands battle. Wounded in action, this Force Recon Marine carries the scars – and the nightmares – to prove it. No longer able to fight overseas, he's found his place as a warrior in the civilian world. So he soldiers on, trusting God to reveal why Rafe survived the ambush in Iraq. That day has arrived.
Together, Kyla and Rafe discover their very foundations, there's only one way to survive: rely on each other – and surrender to God. In other words, risk everything….
Review : "What Lies Within" is the third book in the "Family Honor Series". Karen Ball has saved the best for last.
Karen richly develops each character and I connected with them right away. Chapter after chapter the plot thickens; and my heart raced. There are many twists and surprises revealed as the hearts of the characters Rafe, Kyla, Fredrick and gang leader King K are exposed.
The story caused me to wonder what lies deep within my own heart. As I read the struggle of Rafe Murphy – x-marine, trying to make sense of his new life; Kyla – a strong women; CEO of her successful construction company as she does her job in a male dominated field. She's as tough as they come – she has to be. The author is gut honest as Rafe and Kyla share what is in their hearts and on their minds
In the author notes Karen Ball says that this book was an answer to prayer. As I read this intricate story I could see God's message emerging from the beginning of this tale to the end. It's powerful; and enlightening in many ways.
The story starts off with a bang as Rafe Murphy (leader of Force Recon Marine Squade) is in the middle of trying to save his men from impending death as the enemy is ready to pounce on them.
When he comes home he gets involved in a war that is much more personal; something he never expected to be involved with – fighting a gang in his very own neighborhood. Rafe comes to grips with the fact that those involved in combating gangs – and those resisting them – need prayer 24/7. This is a new type of combat for him. The world of gangs is a dark, pervasive place, where humanity gives way to violence and mercy to degradation. Once in a gang the only way out is death. There is only one source of light in such darkness and that is Jesus Christ. Rafe and Kyla learn that there is nothing good that lives in their hearts – but Jesus.
At the beginning of each chapter there is a quote from someone famous and a scripture. Some of these quotes and scripture pierced my heart before the chapter did. A few of the many quotes that the holy spirit used to get my attention are "We crucify ourselves between two thieves: regret for yesterday & fear of tomorrow." Fulton Oursler
"Twenty years from now you will be more disappointed by the things that you didn't do than by the ones that you did do…Explore. Dream. Discover" Mark Twain.
"God knows all hearts and He sees you. He keeps watch over your soul" Proverbs 24:12
The impact of this book is deep. It continues to work on my heart and my mind as the Lord keeps replaying segments of this book in my mind; through my day. It makes me realize yet again that God knows what is in the depths of my soul and still loves me. He will use me if I'm willing to be willing to let Him do the impossible deep inside my heart, mind and soul. This book is a keeper. You'll want to re-read this story and discover treasure you might have missed the first time.
Nora St.Laurent
Book Club Servant Leader
Look here's what Karen Ball said about my review:
Nora, what can I say but...Wow. Thanks so much for your kind words about WHAT LIES WITHIN. You've blessed this writer's heart--and then some! To know the story came across as it did, to see that a reader loves these characters as much as I do...well, what writer could ask for more. May the One who calls us all to the task of sharing His love bless you in abundance. Karen Ball
Posted by

Nora StLaurent
at 11:30 PM
0 comments


CLEAR BLUE SKY
By F.P. Lione
Published by Revell
ISBN# 978-0-8007-1886-2
From the Back Cover
I drove up 33rd Street and made a left onto 5th. I drove two blocks south and parked outside the bagel store, smelling the bagels before we got in the door. Are the everythings hot? I asked the guy behind the counter. They just came out ten minutes ago. Great, I said. Give me an everything with butter and a regular coffee. Joe was getting an egg sandwich, so I went outside with my coffee. I pulled back the plastic tab on the Styrofoam cup to blow on the coffee. Something caught the corner of my eye, and I looked straight down 5th Avenue and saw smoke coming from one of the towers of the World Trade Center.
Review:
Clear Blue Sky is a glimpse into a day in the life of street cops starting on September 2nd leading up to the events of September 11, 2001.
"Greater Love has no man than this that he lay down his life for his friends." This is what firefighters, policeman and other rescue works gave on that fateful day. The main character Tony Cavalucci is a macho Italian who has been a patrol policeman in New York for the past 11 years. Tony's father had 22 years on the force before that. Tony's precinct is Midtown, Manhattan, in a brick building off 9th Avenue. His partners name is Joe, another macho Italian man who is a born again Christian.
Anyone remember the TV show NYPD BLUE? That show was kind of a day in the life of real policeman on the job and off in their personal lives. September 2nd Tony & Joe volunteer to get some overtime on Labor Day patrolling for a parade heading downtown. The events are similar to the ones I remember NYPD BLUE show to be.
Tony Cavalucci is a new Christian and his Italian family is not so happy about his decision to follow Jesus. Tony is engaged and his brother Vinny wants to give him a bachelor party that will include lots of drinking and prostitutes. Tony and his bride to be don't want any part of this party. Vinny and the rest of the family think that there is something wrong with Tony when he doesn't embrace the bachelor party with open arms. His family and brother think he's no fun anymore. He doesn't want to drink with them, and he doesn't want to have bachelor parties. What's up? The family thinks it must be his fiancé Michelle. Tony's family hopes he hasn't taken this Jesus stuff serious. They think Tony will come around to his old ways soon it will just take a little manipulating by the family to control the situation.
Tony struggles to honor his family and follow Jesus. On an early morning fishing trip with family and a few friends Tony explains why it's ok sometimes to miss church. "If you are only going to church because you're afraid God's gonna punch you, you're going for the wrong reasons anyway. I don't like to miss church and I don't do it very often. But the Lord likes fishing, and He'll be there with us!" I like how he said that.
Tony says to himself "I took Joes' advice (about praying) but I found I couldn't focus trying to pray, drive and keep my eye on the cab at the same time. Joe seemed to be fine with it, so I left the praying to him."
I get a kick out of Tony sharing his struggle as he says "Honestly – Okay – I didn't' say crap, I said the "S" word and was feeling guilty about it. Then I thought about what Joe says, that God forgives me if I ask Him to, and I felt confused that I cursed and now I expected God to forgive me when I did something wrong. ; Then I got aggravated that I had all this crap in my head when I was trying to cuff this guy and was glad when Rooney jumped out of the car and ran over to help me." It's funny and gut honest. I can see this macho Italian man doing this on the streets of New York.
As I read about Tony and Joe and their lives as policemen I kept wondering when September 11 events would happen as I turn the next page. These patrol men are not search and rescue personnel. They are street policemen walking their beat when tragedy strikes. No one was quite sure of what happened when the first plane hit (like the rest of us). I'm sure everyone remembers where they were and what they were doing on that day when that first tower got hit. The first mission for the patrol cops was to keep some kind of order on the streets by keeping the traffic and people moving away from the towers. No one was sure of what would happen next. They wanted everyone out of the city and out of danger.
I know that I could not fully grasp what was happening on the streets of New York after that first plane went into the building and then the second when I watched the video clip on TV over and over that day. F.P. Lione interviewed policemen that actually lived thru this. They describe what happened through not only what they saw, but what they heard, smelled, touched and felt physically and emotionally. It was really enlightening to read the description.
TONY Cavalucci actually starts to pray for each person that jumped from the building. He says "I remembered what Joe said about going ino God's thrown room, and I asked God if I could come in and talk to him. I felt inside he told me yes, to come in and pray for these people."
I liked how this book showed Tony and Joe's faith in action on the streets of New York; it's funny, sincere and edgy. It is a heavy subject that the authors handled really well. I know this book will be hard for some to read (because of the subject matter) but I really recommend it.
Nora St. Laurent
Book Club Servant Leader
Posted by

Nora StLaurent
at 11:26 PM
0 comments


Echo
By C.L. Kelly
Published by Zondervan Publishing Co.
ISBN-10: 0310263042
Description:
A trip with friends to the Cascade Mountains had been Cassie's idea. The Ferguson's had been a couple close to them but had slipped out of their lives when tragic circumstances hit Cassie and Nick's life. This was Cassie and Nick's chance to catch up with a couple of old friends and their son, Cody who is deaf. Cassie could see the separate lives the Ferguson family was living. Could this camping trip break the routine of everyday life and bring the Ferguson's to talk to one another again? Could they stop hurting one another to remember the good times and how much they loved each other? When did life get so serious?
Review:
Cody disappears without a trace; Sheila and Andy start to do what they have come to do best: "blame" one another for the situation at hand. Cassie feels bad that she could see the tide was turning for the couple out in God's country. They just needed a little longer. Now this; a bad storm was moving in and it did not look good. The sheriff came and told them there has been a grizzly bear spotted not to far from where they last saw Cody. Where was God in all of this?
This was the testing of Cassie and Nick's faith. Did Sheila really believe in God? Could Andy trust God with his son's life? Would Cody be found alive? How could a deaf boy make it in the wild alone? Could they capture the grizzly bear in time?
This story will grab your heart right from the start, and you won't want to stop reading. Every parent can sympathize with the Ferguson's and may relate to how life had gotten so serious for them and learn why it has stopped being fun. Then the suspense takes over and you will not stop reading until you reach the end. I highly recommend this story.
Nora St.Laurent
Book Club Servant Leader
Posted by

Nora StLaurent
at 11:08 PM
0 comments


Catch a Rising Star
By Tracey Bateman
Published by FaithWords, (July 17, 2007)
ISBN-10: 0446698938
Book Description: When thirty-something Tabby Brockman has the opportunity to reclaim her role as a killed-off character on the nation's #1 daytime soap opera, she figures this must be God's reward. But back on the set, she's faced with the same hateful head writer who killed off her character in the first place, kids who drive her crazy, a stage dad who rubs her completely wrong, and and an unwanted boyfriend who can?t seem to get the message. Faced with this dizzying rollercoaster of challenges, Tabby has to wonder: is she finally a star on the rise or just on the brink of another spectacular fall?
Review:Tabby Brockman is a young girl who is getting a second chance to reprise her role on the nation's number-one daytime soap opera. Right away Tabby's faith is tested. She knows that she wants to make a different in the field she loves – acting; but is she have the courage to stand up for her principles? Will she be strong? Will being on the show be different this time now that she is a "Christian"? The story is funny, witty and believable. Tracey shows what Tabby has to deal with as a member of the soap opera cast on a daily basis. Tabby learns how to make Jesus - Lord of her life through a process of trial and errors (some pretty funny) Tabby also battles with "Lies" of the enemy about her weight and other topics that come up in that industry. This was a fun book and the first in its series called "Drama Queen".
Nora St. Laurent
Book Club Servant Leader
Posted by

Nora StLaurent
at 11:04 PM
0 comments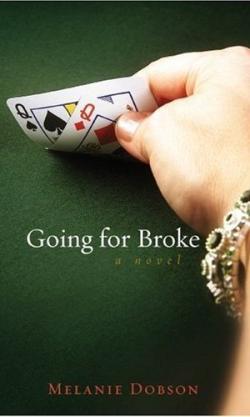 Going for Broke
By Melanie Dobson
Published by Honor Books
ISBN-10: 1589190939
Book Description:Leia Carlisle can't tell anyone her secret. After a debilitating ski injury, Leia loses her job as an airline pilot and turns to gambling for its empowering adrenaline rush. But the more she gambles, the more Leia thrives on the rush of euphoric wins until her obsession consumes her. If she doesn't overcome this addiction, the game will destroy her family, her faith and her life.
Review:
This book starts out light hearted and shows an average married couple in the early years. Leia has an accident and is confined to the house for the first time in her life. She is going crazy. What can she do to occupy her time? She starts searching the web. What does she find but a gambling site? What can it hurt? (she tells herself) The site lets her gamble for free. She knows her husband doesn't like gambling; they are Christians. Christians don't gamble. She tells herself it's not gambling because she is not using "real" money.
Her husband Ethan is off on business trips and she is stuck home alone in the house with the computer calling to her. She is thrilled that she has won $10,000.00 play money one night. "Oh, how that could help them out if that were real money," she thinks to herself. Maybe she would try it with real money her husband doesn't have to know. It sure would help out since she was out of work for 3 months (the lie - the seductive trap).
As I was reading the book I wanted to stop the character from entering the trap. In the authors notes at the end of the book, she states that women succumb to gambling nearly 3 times faster than men. I was surprised to also learn in this story that a gambling "addiction" can take as little as 2 weeks to develop. It is just as bad as using a substance you put into your body. This book was very informative. The characters and their stories were very believable and sometimes tough to read.
Nora St.Laurent
Book Club Leader
Posted by

Nora StLaurent
at 10:57 PM
2 comments