New Inspiration
FIREPROOF has inspired millions of people. It reminded all of us that the best way to tackle a problem is head-on, be it in our marriages or with our concerns about what Hollywood is offering as entertainment.
That's why it's exciting that moviemakers are also being inspired by the impact of Sherwood Pictures. After seeing Facing the Giants, George Escobar decided it was time to start a Christian film production company, utilizing his diverse experience of more than 20 years in the entertainment industry.
In addition to making entertaining and compelling films, Advent Film Group is committed to training the next generation of Christian filmmakers. Advent's first production is Come What May (which arrives on DVD on March 17), and it features the budding talents of 40 high school and college students. That's putting your vision into action!
Read more about Advent Film Group
About Come What May
Come What May, whose trailer is seen on the FIREPROOF Special Collector's Edition DVD, tackles the real-life issue of when does life really begin. For the cast and crew, the movie was an opportunity to do what they've dreamed of doing while bringing their passion for the right to life to an audience.
The movie focuses on college students Caleb and Rachel who are working together to win the Moot Court national championship. For that to happen, however, Caleb first has to come to grips with what he believes ... and what he believes will win. Wherever he lands will have consequences. If he takes the pro-life argument, he stands to lose the most important competition of his life—and the support of his mother. If he follows his mother's lead, he could win the coveted title ... but lose the heart of Rachel in the process.
This powerful drama is a vivid reminder that choosing what's right is never easy ... but it's always worth the cost.
Learn more about Come What May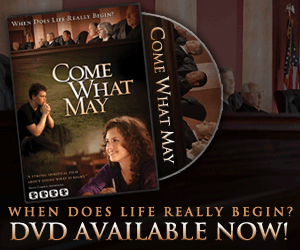 Powerful Story, Powerful Theme
FIREPROOF was the No. 1 independent movie released in 2008 and it is now making history as a DVD. Because of its success and impact, more faith-centered moviemakers are creating films that touch on topics that touch our lives ... but are never touched upon by Hollywood.
Come What May is a great chance for you to support a film and filmmakers that share your beliefs ... and share the vision that a good movie with a good message makes for a good evening of entertainment!
See the TrailerIn Stores March 17
You can purchase Come What May at your favorite Christian store or online beginning March 17. Your church or youth group can also show the film with a site license. Find out more at the movie website today!
Visit
http://www.comewhatmaythemovie.com/index.php
© 2008-2009 Provident Films LLC, a unit of SONY BMG MUSIC ENTERTAINMENT. All rights reserved.