MY INTERVIEW SWAPPING PARTNER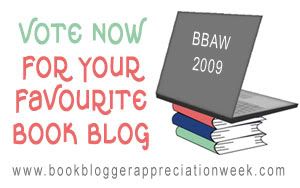 Book Blogger Appreciation Week
was started by Amy Riley of My Friend Amy in an effort to recognize bloggers hard work in promoting books and how they actively engage others in book discussions, authors interviews, and a lifestyle of reading.
One of the activities Amy arranged for Book Blogger Appreciation Week is an interview swap, in which she paired up two participating bloggers to interview each other via e-mail and post the Q&A. Today, those interviews are posting across the BBAW participant blogiverse, so it's a great chance to get to know some book-blogging folks a little better. Check out the other blogs participating in this interview swapping fun by clicking the Blogger Appreciation button at the top of this interview.
Today I'd like to WELCOME- HANNAH From Word Lily--Can you tell us a little about yourself?
I read, I blog, I knit, I make yarn, I work part-time at a nonprofit. I have a degree in journalism, which I've used. I dream about adding advanced degrees to my resume. I also dream of traveling, far and wide. And deep. I always feel woefully inadequate when it comes to writing brief bios of myself.
1. Can you tell a little bit about yourself and how you got into blogging?
I'm a lover of words, a lover of language. My life has always included books and reading, but this love also led me into a journalism career. And I hope to make more progress on my current writing project soon. I started blogging ... I guess to talk about words and language. That always included talking about books I read, but it didn't always include my current focus on books.
2. What has been the most challenging thing about blogging for you? What has been the most exciting thing?
The most challenging thing about blogging for me has been different at different times. Earlier on, it was difficult to come up with things to write about. Or finding the time to write. Now, sometimes it's finding that balance between blogging and the many other aspects of life.
The most exciting thing has been finding and becoming part of the book blogging community. It's a large, vibrant, active community, and that's thrilling to me.
3. Has your taste in books changed since you started your blog? Do you read more genres than you did previously or do you specialize more?
Pretty much concurrent with when I started my blog I started being intentional about stretching myself, about reading books in genres or on topics I wasn't necessarily used to. Trying untried authors. So, yes, I now read more widely than I did before I began blogging. The majority of my reads are still in the same general areas, but I've stepped outside that area and found some new areas to explore further.
4. What does reading a good book do for you? Is reading an essential part of your life?
Reading an excellent book can be transcendent. It reveals truth, gives hope. Reading has been an essential part of my life for many, many years, yes.
5. If you had a whole day to yourself what would you do? Why?
I'd probably read, knit, spin some yarn, sip coffee, maybe go for a walk, and write. I have so many things I love to do, so many things I'm passionate about. But some combination of the above things — without specific obligation — seems luxurious.
6. Do you now or have you ever belonged to a book club? If so, what is your favorite part of the book club experience for you?
I attended one session of the book club at the public library in the town I just moved away from. I attended with the intent of becoming a regular part of the group, but I think I had a scheduling conflict with the next meeting, and then it was too hard to make myself go back to a group where I didn't really know anyone.
7. Do you review every book you read? If no, does a book need to meet a certain criteria? Do tell!!
I review every book I finish, yes. I haven't been reviewing knitting books, or cookbooks, but I think I'd like to start reviewing those, too.
8. What are your hobbies beyond reading and blogging? Do you think you'll blog about these things at some point? Do you like to read books about your hobbies?
I love knitting and spinning. I hope to start weaving some knitting content into my blog someday soon, but I don't think WordLily will ever become a fiber arts blog. I do read knitting books, yes, as I implied above.
9. What authors book would you buy ASAP knowing nothing about it but who wrote it? What's so great about this author? Do tell!
I've got several authors whose books I immediately track down. I believe I own all the books (in English) by:
• Matt Bronleewe,
• Carlos Ruiz Zafon,
• Lisa Lutz, and
• Kathleen Norris.
I've only read one book by Norris and Lutz so far, but in each case, that was enough to convince me that I need to own and read everything they've written! As for Bronleewe and Ruiz Zafon, both have only two titles published in English so far; I'm eagerly awaiting the release of Bronleewe's third, which should be soon. Ruiz Zafon draws such amazing atmospheres, and his love of books and language is radiantly clear. Lutz makes me laugh. Norris expresses profound truth in a fresh way; she makes me want to change my life.
In addition, I've only read one book by River Jordan, but I'd love to devour everything she's written based solely on Saints in Limbo. I haven't gotten around to actually buying her entire backlist yet, though. There may be more I'm just not thinking of at the moment.
10. Give me one blog I have to visit, one book I have to read, one food dish I must try and a fashion trend I have to avoid at all costs?
I much enjoy the new Awful Library Books — http://awfullibrarybooks.wordpress.com/ — which can be relied upon for a laugh.
I rarely tell people they "must read" any certain books, but Dakota by Kathleen Norris is one I've been raving about since last November.
I don't know what you like to eat! I'll go with a dessert: Panna Cotta is a must. Quite simple to make, but so delicious!
Um, I'm not the most fashion conscious person, but, for me personally, I'm religiously avoiding pretty much every fashion trend that I remember from the 1980s. *shudder*
OK, so, there you go!
hannah
THANKS so much for stopping by. It's been fun to get to know you and your blog. Thanks Amy for this blog swap. What a great idea. Be sure to stop by WORD LILY AT

http://wordlily.wordpress.com/

and Check out her blog and my interview with her!! :D

Sincerely,

Nora :D