MELODY CARLSON'S BIO:
Melody has written around 200 books for teens, women and children. That's a lot of books, but mostly she considers herself a "storyteller." Her books range from serious issues like schizophrenia (Finding Alice) to lighter topics like house-flipping (A Mile in My Flip-Flops) but most of the inspiration behind her fiction comes right out of real life. Her young adult novels (Diary of a Teenage Girl, TrueColors etc.) appeal to teenage girls around the world. Her annual Christmas novellas become more popular each year. She's won a number of awards (including the Rita and Gold Medallion) and some of her books have been optioned for film/TV. Carlson has two grown sons and makes her home in the Pacific Northwest with her husband and yellow Lab dog. To find out more about Melody Carlson, visit her website at http://www.melodycarlson.com
What have been the benefits to you in having relationships with reading groups?
Again, it's about connecting with people. Being a writer can feel lonely and isolated at times. But when I get a chance to participate in a reading group (via phone, skype, or in person) I get the satisfaction of an immediate personal response. And it's fun to answer readers' questions and tell some of the back-story to the story.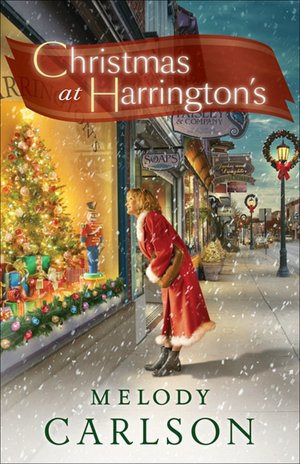 Where would you like to see your relationship with reading group grow? How do you think your goals can be met? If so, how?
For starters I'd like to carve more time into my schedule to get involved in more reading groups. My goal is to spend less time writing and more time interfacing, but that's hard with a writing schedule like mine. Also, I need to get more comfortable with some of the handy electronic tools like skype. And I'd like more free time to travel and visit various book groups. It's been a goal for a few years now (and getting closer to reality) to do a cross country tour in our motorhome where we visit books stores, schools, libraries and reading groups.

Do you have a set size a reading group has to be before you'll talk to them on the phone or in person? What do you feel most comfortable doing?
I don't have a 'set size.' I've done groups as small as four and up to around sixteen. But I think a group around eight is probably my favorite. Enough people to get varied opinions, but not so many that it's overwhelming. Also, I think being there in person is the most fun…unfortunately it's not usually practical. Being on the phone is always easy for me. And skype probably feels more personal to the readers. One of the most memorable reader group meetings was arranged by a publicist and because my book setting was a wedding, the publicist provided wedding-like refreshments and created a bridal shower sort of atmosphere that the readers just loved. Really fun!

What do you think about ebooks and future sales of your book? How will authors do book signings with an ebook reading crowd?
I know that many of my readers are getting hooked on eBooks and I'm glad that my books are available electronically (I have about a 100 titles now). However, I'm not using my kindle much and I still like the feel of a "real" book in my hands. But I get it—and it's a greener way to live. However, it would be difficult to sign an eBook. Maybe I'd take bookmarks or postcards to sign for readers.

Which type of book club meeting do you prefer? Why?
I think it's fun to meet in a person's home. That's probably the writer in me—I like to see where and how people live. Also, like I mentioned, I prefer groups with around 6-10 readers. More intimate and friendly. But I'm open to whatever setting is best. Mostly it's nice when the members of the group are good friends—a happy sort of energy happens and I leave feeling good about the time spent.

Do you learn about your book and yourself from book club meetings? If so what?
Absolutely. One time I did a group that had read my novel Finding Alice (about schizophrenia). It was a very interesting and intelligent group of women, and some of their observations about the book pleasantly surprised me. As a writer, I'm not always aware of things I've tucked 'between the lines' and sometimes it takes a savvy reader to illuminate it for me. Metaphor is subjective and it's fun to see how others react to what you've created—and how it touches them in totally unique ways.



Did you learn more about your characters than you original wrote about? Have you been surprised by readers reactions to one of your books? Characters? If so, which ones?
One thing that's surprised me is when a reader personalizes the story—so much so that she perceives a character in a much different way than I wrote it. And then someone else in the group might see it completely differently. It reminds me of how our personal experience plays into the way we view the world and others around us. It's like the story my grandma used to tell about three blind men describing something they just felt of, but didn't know what to call it. One was certain it was a rope. Another felt sure it was a tree trunk. The third knew it was a giant palm leaf. It was an elephant, but they all felt different parts of it.



Has your book club experience - getting feed back from reading groups - helped you in writing future books? If so, how has it helped you?
What might help me most is being reminded that I'm writing for real readers. People with real problems and real relationships and real lives…and that makes me want to keep my writing as real as possible. Whether it's for teens or adults I like to be sure that my fiction is believable, lifelike and relevant.
You write for very different audiences. Which do you prefer writing the best children's, young adult or adult books?
My favorite book to write is usually what I'm presently working on. Right now it's teen nonfiction. But fiction is my first love. And I really do like writing for young adults because of the amazing response I get from the readers. Also it's a different kind of writing—like in my TrueColors series (Nav) I got to write the kind of stories that just don't do that well in the adult market. I love getting into the head of a teen character and taking her through all sorts of things that reflect real life.
THANKS for stopping by Melody. It was wonderful to catch up with you at the ICRS Conference this summer in Atlanta. I enjoyed Double Take and my book club will be reading Christmas at Harrington's this year. I enjoyed that book too.
Until Next Time
Nora St.Laurent
The Book Club Network
www.bookfun.org