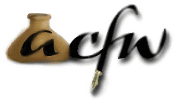 I wanted everyone to know about an important change in the ACFW ON-LINE BOOK CLUB!!
I have exciting and sad news for
you today. Exciting in the fact that I have another opportunity to share the
LOVE of BOOK CLUBS in my community in the Christian Book Store I work at. I
have the opportunity to start a Co-Ed Face to Face book club. I've had such a
great response and the book opportunities are endless.
I'm sad because I have to
resign The ACFW Book Club Coordinator. I was a book club assistant for 2 ½
year and I have been your Book Club Coordinator for 2 ½ years. I've learned so
much and have made some very special friends. I'll still be part of the club
but as a participant. You'll still have all the great assistants here Carole
Brown, Lisa Lickel, Rachael Bradford, Martha Artymenko, Kathy Cretsinger, Casey
Herringshaw, Shawna Williams, Carrie Pagels and Crystal Miller.
The Board has chosen my
replacement and your new Book Club Coordinator will be CRYSTAL MILLER. Crystal has been an
assistant and part of the club and knows her way
around. She is also been around ACFW for a long time and holds the following
titles.
* IndianaChapter Vice President at American Christian Fiction Writers Indiana
* Book Club Assistant at American Christian Fiction Writers
* First Fiction Acquisitions Reader and Reviewer at Freelance
* Freelance book reviewer, fiction acquisitions reader and writer at Crystal Miller Reviews
* Self-employed writer and editor at Self employed
* Book Reviewer at Church Libraries Journal
I'll be here to help Crystal learn the ropes for March. Crystal is going to do a great job. Let's give a warm WELCOME to our NEW Book Club
Coordinator Crystal Miller.
I
appreciate your encouragement and support through the years. My
husband and I are getting busy at The Book Club Network
www.bookfun.org
. I'm so excited about
Bethany House being a new sponsor of the network this year. We hope to have
more contests and showcase more authors.
I truly
feel that the Lord is birthing another face to face book club that's co-ed and I need to get ready. I'm
sad because this season of leading the ACFW Book Club is coming
to an end. Having ACFW Book Club in my life has been a HUGE Blessing. I'm very
thankful to have had the experience. One I'll ALWAYS treasure.
Blessings
You all
have been a BLESSING TO ME
Sincerely,
Nora :o)
Nora
St.Laurent
Former ACFW
Book Club Coordinator
The Book
Club Network www.bookfun.org
Finding
Hope Through Fiction -
www.psalm516.blogspot.com
Christian
Fiction On-line Mag - Columnist