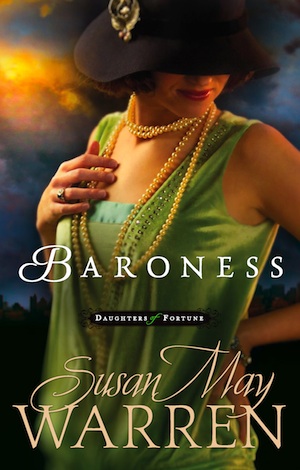 Baroness
By Susan May Warren
Published by: Summerside Press
ISBN# 978-1609362188
380 Pages
ABOUT SUSAN:
Susan May Warren is the RITA award-winning novelist of over thirty novels. A five-time Christy award finalist, a two-time RITA Finalist, she's also a multi-winner of the Inspirational Readers Choice award, and the ACFW Carol Award.
A seasoned women's events speaker, she's a popular writing teacher at conferences around the nation and the author of the beginning writer's workbook: From the Inside-Out: discover, create and publish the novel in you!.
About the book:
Baroness – Book Two in the Daughters of Fortune series
Lily and Rose, daughters of an empire coming of age in the roaring twenties, can have anything they want ... except freedom.
Expected to marry well and to take the reins of the empire, they have their lives planned out for them. But, Lily, Esme's daughter longs to return home to Montana, to adventure outside the confines of New York City. And Jinx's daughter Rosie dreams of the bright lights of the newly emerging silver screen. But following their dreams - from avant garde France, to Broadway, to the skies in the world of barnstormers and wing-walkers will take all their courage.
And if they find love, will they choose freedom or happily ever after?
Review:
I loved book one, Heiress and was thrilled to receive a review copy of Baroness Book two in the Daughter of fortune series. The first book dealt with two sisters and one stealing the birth right from the other. Susan May Warren said that it was loosely based in the story of Jacob and Esau in the bible.
Baroness deals with the children of sisters Esme and Jinx, daughters of a prominent newspaper publisher and takes the reader for an inside look at the "Roaring Twenties" with the flappers, jazz, airplanes, post-WWI, bold makeup, short dresses, gangsters and baseball. Susan does a great job of capturing this era and letting the reader experience it.
Cousins, Lilly and Rosie take in the streets of Paris in different ways. Rosie hungers for the glitz, glamour, and romance of the city. Lilly doesn't care for all that. She wants adventure of a different kind, similar to what she found in Montana.
These cousins each rebel their social status. Their family fortune assures them of every material thing they could ever want, yet each desires to strike out on their own, be independent! They had to prove they could make a name for themselves.
Lily turns to planes, flying and the circus to find her independence. Rose rushes into the arms of one lover after the other, finally embracing the world of baseball and all it has to offer her.
The novel follows these daughters of fortune and the decisions they make to walk in the opposite direction their parents wanted them to. Both cousins were desperate to get away from their families and their pre-arranged lives. They make poor whimsical choices after the other, which leads to anguish and heartache.
These girls weren't struggling with their faith nor were any other characters in this book. None of the characters I noticed came across as Christians although there was a brief mention of a tent revival. I missed the uplifting and most times encouraging that aspect of a Christian Fiction novel; these girls were just out to do as they pleased with no care for family, faith or friends. They soon discovered that happiness could not be found this way or indulging in money.
This book could be read as a stand alone as it really doesn't refer to events from books one, the author fills in what you need to know about this sisters from book one. But DO NOT miss experiencing Heiress, it was great! If you are looking for something gripping, a little different and historical then Baroness is the book for you!
Nora St.Laurent
The Book Club Network
www.bookfun.org