ABOUT AUTHOR: Don Hoesel
works in the Communications department for a Medicare carrier in Nashville, TN. He has a BA in Mass Communication from Taylor University and has published short fiction in Relief Journal. He lives in Spring Hill, Tennessee, with his wife and two children. He's published two novels: Elisha's Bones, released in March 2009, and Hunter's Moon, coming in February 2010.
What inspired you to write this new book
, Serpent of Moses?
Really, the inspiration behind
Serpent of Moses
was the success of a previous book—
Elisha's Bones
.
In that novel, I introduced archaeologist Dr. Jack Hawthorne, and then sent him traipsing about the globe in a hunt for the bones of the prophet Elisha. It was a fun book to write and Jack turned out to be a great character. But when I wrote
Elisha's Bones
, it wasn't meant as the first book in a series, even if I thought there were some good stories left to tell. But people seem to have really connected with Jack. I got a lot of emails asking if there would be more Jack Hawthorne adventures. Which led to
Serpent of Moses
.
Once it was established that my next book would feature Jack Hawthorne, I really just needed a subject—a prize—for him to pursue. And I was looking for something that hadn't been run into the ground already. The brass serpent staff of Moses—the one that healed the Israelites after they were bitten by snakes that God had sent among them—fit the bill. As with the bones of the prophet Elisha, it was mentioned in just a few passages in the Old Testament, which left a lot of area for me to play in.
But aside from the artifact, one of the real drivers behind
SoM
was the chance to address some of the questions left unanswered at the end of
Elisha's Bones
. I heard from a large number of readers who wanted to know what happened to Jack and Esperanza, and if Jack stayed in archaeology after leaving Australia, and if the mysterious organization that had protected the bones for millennia would eventually come for him.
SoM
answers some of these questions—though not all of them.
I've read

Serpent of Moses my favorite character is Jack; my question is how did you come up with this character? Did your character come first or did the story? What do you admire most about Jack? Why?
These are the books I've written
Well, because this is the second book in the Jack Hawthorne series, Jack preceded this particular story. But when I wrote the first book in the series, Jack and the plot developed in tandem with each other. At the outset, I knew my main character had to be an archaeologist but his personality, his character traits, developed over the course of writing that first book.
And there were a few reasons for that. One of those was the need for a character self-reliant enough to handle some extraordinary challenges, as well as one with the proper combination of skepticism and fledgling belief. But another reason Jack wound up as he did was that, in truth, there's an element of own personality in Jack.
More than any other character I've written, I share a lot of commonalities with Jack. And that's not necessarily a good thing because Jack has a lot of vices and character flaws. But I think having all those flaws makes Jack accessible to readers.
As far as what I admire most about him, it would have to be his skepticism. I've always been attracted to the skeptic—to someone who has a difficult time believing unless he can see it with his own eyes. Often, skeptics can be very driven people—driven to search for the answers themselves because they're not content to let others do the legwork for them.
After readers finish this your book

Serpent of Moses, what do you want them to remember—walk away feeling?
There are a few themes I tried to infuse into the story—the two most pronounced being that growing in faith can be a messy business and that no man can do it by himself. Jack's the consummate loner—one who was dragged practically kicking and screaming into the faith—and so part of what I wanted to document was the way a born skeptic develops a relationship with a God he can no longer deny, yet also one who challenges some deeply held convictions. In the process, I wanted to force Jack to take a long, hard look at his priorities, and the place his friends have among them, and make some hard decisions.
Which scene in

Serpent of Moses did you have the most fun writing? Why?
Serpent of Moses
brings back many of the characters from
Elisha's Bones
and this book gave me the chance to spend more time with them.
One such character is James "Duckey" Duckett, who was indispensable to Jack in EB but, for all his assistance, remained safe within the ivy walls of Evanston University. SoM sees Duckey returning to his CIA roots by beating the streets of Al Bayda, Libya.
But he gets into a little more than he can handle and has to call for an extraction, which requires him to don a disguise. And that leads to what might be, in my opinion, the most memorable scene in the book: What appears to be a very large, very angry Muslim woman making light work of three Libyan intelligence officials in the middle of a busy Al Baydan street.
Can you give us a peek into what you are working on right now and when it will be out?
This is my home office
Right now, I'm working on a third Jack Hawthorne book. It's called
Blood and Bone
and so far it's shaping up to be the most ambitious of the three books. There's a lot more at stake and a lot more in the way of obstacles that Jack will have to deal with.
I don't want to say too much about it at this point, except to say that this book will deal with some of the questions left unanswered after the first two books. It's scheduled to come out in July 2013.
What are you reading now?
Right now, I'm reading
Last Night in Twisted River
by John Irving. In the queue after that are
Life of Pi
by Yann Martel and
The Corrections
by Jonathan Franzen. I'm a bit late to the game with those last two but I'm looking forward to them.
When you sit down to read what authors do you like to read?
Me and my lovely wife
I have a passion for Southern Lit, so I'll read just about anything in that genre, although two of my favorite authors are Larry Brown and Harry Crews. I like Daniel Woodrell quite a bit.
And I'll keep reading Cormac McCarthy as long as he keeps writing. Richard Russo is another favorite.
Why write Christian Fiction? What is the draw for you?
At its core, fiction deals with truth. Defining it; uncovering it; even reminding people of some of the universal truths they may have forgotten. And Christian fiction, with its focus on the truth-giver, offers a unique jumping off point from which to deal with these ideas.
QUESTIONS I JUST HAD TO ASK
You are shipwrecked on an uninhabited tropical island with a group of Christians – all friends and relatives of yours. You all have to work as a team to survive. Many roles have to be filled. Which role do you think you'd play?
I'd like to think I'd fill the role of the Professor but, more than likely, I'd end up as Gilligan.
Nora:

Way to funny Don!! Grin!
You've been given 48 hours to hang out with any two (alive or dead). Who would you pick and what would you do? (Besides Jesus)

That's a hard question to answer because there are so many people I'd like to pick. I guess one of them might be Francis Bacon. I've always been fascinated by Bacon—how he spanned so many different disciplines. I'd love to spend 48 hours listening to him talk philosophy and literature.
The second would be Ridley Scott and I'd spend the entire 48 hours trying to convince him that the Jack Hawthorne series would translate well to film!
What three things would you rather not live without? (Besides friends and family)
A good book, a quality cigar, and a covered porch on a rainy day.
A friend of yours has a time machine and they are going to let you use it. Where would you go and what would you do?
I'm going to deliberately avoid anything historically grand. Instead, I'd opt for Oxford, circa 1935, and a chance to sit in with the Inklings.
Nora:

Fun!
When you were young is there a movie that really affected your life? If so what was it? If you didn't watch movies what book stood out to you when you were young?
Movies have always been important to me. In fact, I got my BA in Communications, specializing in television and film production, then worked for a while in LA.

Jaws was the first movie that really fired my imagination—got me thinking about how movies were made and wondering if I could do that. Of course, I was only five when Jaws came out, which meant I was also scared to death. Over the years there have been several films that I go back to for one reason or another. One if those is an Italian film called Cinema Paradiso—a great film about the power of film, itself.


Another is a movie called My Dinner With Andre, with its master's level execution of dialogue and monologue.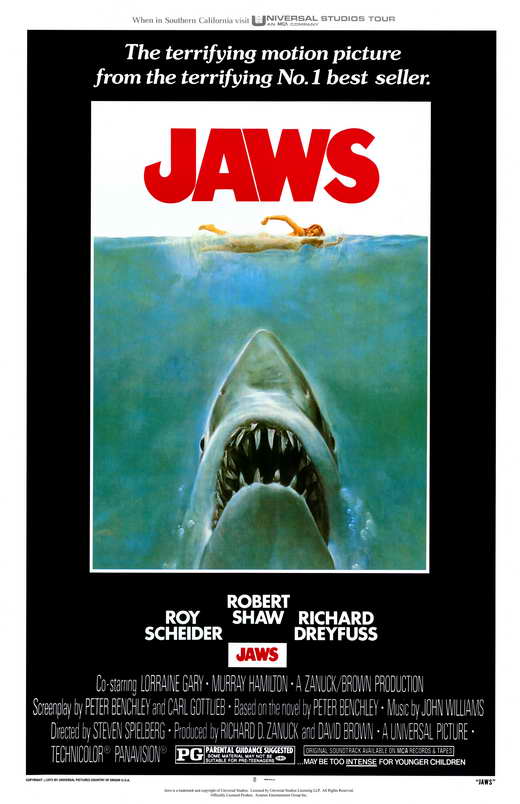 Nora:
Don,
Jaws
really rocked my world too! Can you believe I went to see this movie and I didn't know it was about a killer shark? Goes to show you I needed to ask better questions of my friends and the movies we were seeing. I learned real fast after this flick! The first 5 or so minutes of that movie where the girl gets jerked around and up and down and you don't see a shark is the scariest part for me!! Oh, and I hated the haunting music!! Yikes! Just look at that poster. It still gives me the creeps!
ANY FINAL COMMENTS YOU WANT TO SHARE WITH READERS DON?
As I mentioned, when I wrote
Elisha's Bones
back in 2008, it wasn't meant as the first book in a series, even though Jack still stands as my favorite character out of all the ones I've created. But the reaction to that book has given me the chance to bring Jack back—not just once, but twice more. I'm grateful for everyone who read
Elisha's Bones
and liked it enough to want to see Jack's adventures continue. I hope you'll enjoy the continuation of his story in
Serpent of Moses
.
THANKS for stopping by Don and letting us get to know you and your books. I'm thrilled that Bethany House is giving away 10 copies of your book at The Book Club Network.
The contest started August 1st. Readers can enter the drawing @TBCN www.bookfun.org until August 7th. We are giving away 10 books every day in the month of August to CELEBRATE our Birthday BASH!!
ALL ENTRIES FOR THIS 10 BOOK DRAWING ARE DONE @THE BOOK CLUB NETWORK SITE www.bookfun.org. NO ENTRIES ARE ON THIS BLOG.
The Book Club Network CEO