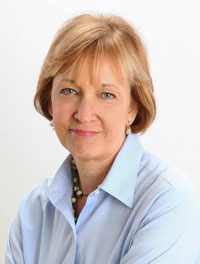 ABOUT AUTHOR:
Lynn Austin
,
a former teacher who now writes and speaks full time, has won eight Christy Awards for her historical fiction. One of those novels, Hidden Places, has also been made into a Hallmark Channel movie. Lynn and her husband have raised three children and make their home near Chicago, Illinois. Visit Lynn's Web site at www.lynnaustin.org
How did you come up with the idea for your book All Things New?
A few years ago I wrote three books about the Civil
War but they all ended shortly after the war did. I had discovered in my research how devastated the nation was following the war, especially in the South, and knew that for so many people the suffering wasn't over yet. I was intrigued by the slaves' situation following the war—they were set free, but now what? How would they live? Where would they go? And the hatred that had caused the war certainly hadn't ended with the peace treaty. So I decided to write a story that would show the next chapter in all of these people's lives after the war ended.

What do you hope readers take away from this novel?
Life brings change, whether we want to face it or not. The time period in All Things New was one of extraordinary change when people who had lost loved ones and been stripped of everything had to start all over again. I hope the book will be an inspiration for readers who are facing unwelcome changes in their lives—that they'll discover that they can lean on God for the strength they need and trust Him to face what's ahead.
I had to laugh to myself at Josephine's honest reaction to reading the book of JOB in the bible. She said, "I'm angry about that story you told me to read Alexander. I hated reading it!"

Alexander told Josephine, "What JOB shows us is that it's all right to argue with God. God understands our pain. He can handle our anger."

I discovered this meaning to the book years after my first reading of it and found comfort in the passage. I remember reading the book of Job for the first time and being confused by it. What was your first impression? Did your opinion of this passage change with time? If so, how?
My introduction to Job came in an Old Testament class in the Christian college I attended. At the time, what I took away from it was that there are a lot of confusing ideas about God—and it's probably not a good idea to discuss them with someone who is suffering! For years, I hated to read Job because I was horrified at the idea that God would allow suffering to come to a righteous man to prove a "bet", so to speak. I never wanted to be as righteous as Job was and invite such trouble upon myself. But suffering comes to all of us at some point in life. And when my time came, I remembered the Book of Job and knew that it was okay to be angry with God and to argue with Him. Communicating our thoughts and feelings is part of every healthy relationship—and God wants us to have a true relationship with Him. I hope this portrayal in my novel brings comfort to readers, too.
Dr. David Hunter says, "The war has exposed our false beliefs and the moral rot that accompanied slavery. All of our prideful decisions and the shameful way we treated the Negros have been exposed. We were exposed. We were flawed, Eugenia. God said so. It's time to let go of our old attitudes and rebuild the south with compassion for others and with the belief that's at the core of our constitution – that all men are created equal and it's up to us to lead by example."

This made so much sense to me in understanding the war and what had to take place in the South and North. In your research did you feel that maybe this was the beginning of women wanting to be treated equal too. They had run plantations and did men's jobs while the war was on. What did you discover?
This was definitely the case. The war was a turning point in the way women understood so many things. They had worked tirelessly for social justice issues before the war, including the abolition movement, and after they had succeeded in winning freedom for the slaves, many women were astonished to discover that Negro men now had the right to vote—and they didn't Women had done so much during the war, running their families' farms and businesses, raising their children alone, working as nurses and doing other jobs that were formerly "men's work." So they were frustrated to be overlooked once again when the war ended. This frustration was one of the reasons why the women's suffrage movement gathered new momentum.
You ask the question in this novel, "How did we lose everything we once had? " The answer "We began to believe that we were little gods, expanding our empires, living well at the expense of an entire race of people. The Almighty finally had enough and showed us we were only human after all…" Wow, powerful. This has happened over and over in history. I remember having this revelation when I surrendered my life to Christ and realized I'm not God, He knows what's best for me. I also realized I am powerless and my life is unmanageable without God. What did this mean to you and what do you hope readers take away from it?
Again, the issue of our resistance to change comes into play here. I have a habit of looking into the future and deciding how I would like everything in my life and in the lives of my family to be. I write the script that I want to see played out, far into the future. Of course my vision for the future is seldom God's vision, and when my 'happily ever after" doesn't come true, I'm frustrated. I've learned that this is selfishness on my part and "playing God." He loves all of mankind, including my neighbors and strangers, and He wants what's best for ALL of us—and His plans often conflict with mine. It's a constant struggle for me to surrender my plans and ideas to God and to pursue His vision for the future instead of my own.
I felt your novel All Things New was three dimensional; you shared how it was to have been a plantation owner living high giving no thought to anyone else, you gave a peek at a man from the North, Alexander who came to the South in order to help rebuild and make sure Negros were given the right to learn to read and write and get paid for working in the field. Then there was the POV of Lizzie and Otis being set free but not quite knowing what all that meant and neither did the plantation owners. I like how you showed this struggle on all fronts.
In your research for this novel what touched your heart and made you say, " I've got to put that in my story?"
During my research, I saw what the slaves' quarters looked like and how desperately poor and harsh their lives were. Then, when looking at photographs of Richmond and other cities that had been destroyed, I realized that the war had leveled the playing field for both the slaves and their owners. Confederate soldiers who were used to beautiful homes and warm beds had to learn what it was like to sleep on the hard ground and go hungry and be ordered around by commanding officers—and to wonder if each day might be their last. I wanted to show this in my novel—this slow understanding on the part of Josephine and Eugenia and the former Confederate soldiers that the blessings they'd taken for granted truly belonged to all men and women regardless of race. And it worked in reverse, as well. The Negro slaves had to slowly come to realize that they were entitled to dignity and an education and freedom; that they had a right to worship God and raise their children in comfort and security.
Can you give us a sneak peek into what you are working on next, when will it be released?
I have two books coming out in September 2013, one fiction and one non-fiction. Return to Me will be the first novel in a three-book series called "The Restoration Chronicles" based on the biblical books of Ezra and Nehemiah. Return to Me is the story of the Jewish exiles who return to Jerusalem from Babylon after King Cyrus issues his decree. It features the prophets Zechariah and Haggai. The second book, "Keepers of the Covenant," is the story of Ezra the priest and will be out in September 2014. The third book, "On This Foundation" is about Nehemiah, who rebuilt Jerusalem's walls, and will be out in September 2015.
I have also written a non-fiction book, which will be out in the fall of 2013. It's called Pilgrimage--My Journey to a Deeper Faith in the Land Where Jesus Walked. In this memoir/devotional I will take readers on a pilgrimage to the Holy Land with me and share some of the insights I gained on my travels
FUN QUESTIONS I JUST HAD TO ASK
You've been given the opportunity to use a time machine. Where would you go and what would you do?
I would go back in time to when my children were little and spend the day playing with them, reading stories to them, hugging them. Those were such wonderful years and they went by much too quickly! It would be so nice to see them as children again, especially now that I know them as the adults they have become.
If you had 24 hours to hang out with any two people alive or dead in the history of the world (besides Jesus – that's a given) What two people would you pick and what would you do?
One would be King David. He is such a complex person—an extraordinary leader and man of courage and faith, yet so human and fallible. I would love to sit and talk to him and see what made him "tick." He was also a truly amazing psalmist, whose poetry has inspired people for thousands of years. I would love to hear him sing his psalms in the original Hebrew with the original tunes and talk to him about his relationship with God.
The second would be William Shakespeare. I would love to sit beside him and watch one of his plays being performed in his time period. He seemed to know so much about human nature and drama and passion for life. I would love to talk with him about writing and creating characters and find out how he packs so much truth into his plays.
Where did you live growing up? What did you like about growing up there?
I grew up in a small village in New York State about 60 miles north of New York City. I loved the small town atmosphere of knowing all your neighbors and going to school with kids I also knew from church. I loved the rural countryside and being surrounded by mountains and dairy farms and apple orchards. I loved walking in the woods and riding my bicycle down country lanes. Yet we were only an hour's drive from New York City and all of the wonderful museums and art galleries and concert halls. It was the best of both worlds.
Name two jobs that you've had people might be surprised at.
I was a psychology major in college and I spent one summer working as an attendant in a private mental institution. What an education that was! I also taught fourth grade in an all-boys Catholic elementary school in Bogota, Colombia. I had 38 Spanish-speaking students (and no teacher's aide). I'm not sure who learned more, my students or me!
You are shipwrecked on an uninhabited tropical island with a group of Christians – all friends and relatives of yours. You all have to work as a team to survive. Many roles have to be filled. Which role do you think you'd play?
I wouldn't take over as the leader—I'm a good team player but not a natural-born leader. I would probably be the nurse and patch up everyone's wounds. I'd also be a Pollyanna-type of cheerleader, encouraging everyone to stay strong and not to lose hope.
What movie greatly impacted you as a child? Why? If you didn't watch movies as a kid what book affected you?
The movie Bambi
had a huge impact on me. When I was in first grade my mother became gravely ill and nearly died. My sisters and I had to move to another state and live with our grandparents for nearly a year until she recovered. In the movie, Bambi's mother is killed by hunters yet the other animals help him survive and grow up happily. It was a great encouragement to me as a child to know that I would also get through this hard time with the help of the people who loved me.
ANY FINAL COMMENTS FOR READERS LYNN?
Thanks for having me here. I'm excited to be at The Book Club Network and interact with readers.
THANKS for stopping by and helping us get to know you and your new book. I'm thrilled that Bethany House is giving away 10 copies of your new book at The Book Club Network's contest too. Which starts this weekend and ends December 20th
th
. I hope that you can join in the discussion. The readers and book club leaders enjoy the author interaction.
ALL ENTRIES ARE TO BE MADE AT THE BOOK CLUB NETWORK www.bookfun.org NOT on this Blog post!!
Blessings to you in your writing adventures.
THANK YOU!
Nora St.Laurent
TBCN Where Book Fun Begins!!