ABOUT AUTHOR: Mesu's greatest delight is to share God's truth through well-researched, compelling stories of real men and women who lived in biblical times. As an author and speaker, she illuminates the sometimes shadowy characters of Scripture, helping audiences and readers experience God's Word in living color.
Why write biblical fiction? What's the draw for you?
I never dreamed of being a writer—and I never read Christian fiction until an editor told me that my Bible study on the Song of Solomon would never get published. It was that same editor that said he wouldn't publish a Bible study on the Song of Solomon if Billy Graham wrote it, let alone a first-time author.
He suggested I write my Bible study in story form—as biblical fiction—but even the genre category rubbed me the wrong way…biblical FICTION? The Bible is fact, not fiction. So, I read my first biblical novel in 2001, The Red Tent, by Anita Diamant. It wasn't Christian fiction, but it was historically profound and well-researched. Though it wasn't scripturally accurate, I was drawn into the authenticity of the biblical era Ms. Diamant portrayed.
Whether speaking or writing, my deepest desire is to get people excited about God's Word. So much of the Old Testament is a mystery to folks, and I believe we can't fully understand the New Testament, and all Jesus did for us on the Cross, until we get a firmer grasp on the Old Testament. That's why I personally grapple with some of the more puzzling passages—Job, Song of Solomon, the prophets—and then I write them in story form, hoping others will relate to the truths I've learned during my personal studies.

I like that you tell readers right up front what was "fictional" about the biblical story they are about to read – what you added to the story to make it work which leads me to ask How do you begin your research when taking on a new project? How long do you study before you feel ready to write about a subject?
I always begin my research in God's Word—first, last, and continually. For Love's Sacred Song, I read all eight chapters of Song of Solomon every day for a year, and the research and development of that plot evolved over a period of twelve years. Since Love Amid the Ashes dealt mostly with the Book of Job and small portions of Genesis, I read and re-read Job during the year-long publishing process, but I didn't read all of Job each day. It usually took me two or three days to get through the forty-two chapters, but I didn't begin consulting supplemental sources until I sensed a solid plot from Scripture.
The same is true for Love in a Broken Vessel. I read through Hosea daily for a period of time before I looked to other ancient texts, but because other prophets were active during Hosea's ministry, I needed to read parts of 1 and 2 Kings, 1 and 2 Chronicles, Isaiah, Micah, Amos, and Jonah. The Scripture reading for this novel was a little overwhelming and required a more methodical approach to ensure I didn't overlook important details (which is always a HUGE concern when writing a biblical novel!).
I only move to supplemental texts after I feel I have a clear plot outline from Scripture. After receiving the absolute Truth of God's Word, I feel equipped to glean additional facts from historical documents. Whatever holes remain in the plot after these processes, I fill with a little imagination and a lot of prayer.

You dedicate this book to a friend and say, "To my forever best friend, Joni Edwards Jones. You saw me at my worst – and you refused to leave. You saved my life – and then I met Jesus." Can you tell us of your testimony and how your friend played a part in having you meet Jesus?
Joni and I
Joni and I became best friends in sixth grade. We supported each other through acne, catty girl-fights, and boyfriends. During our sophomore year of college, a five year romance—that I thought would result in marriage—ended in heartbreak. I had no relationship with Jesus and an all-too-consuming passion for black-label Jack (whiskey). Joni was with me on the night of my break-up, and somehow she knew I intended to end my life. She refused to get out of my car—even when I literally tried to kick and shove her out the door.
She stayed with me for two days and set up a "double date" a week later—Joni with her fiancé, and me with an old high school friend of ours. Joni warned me that our friend had gone to a Texas college and "found religion" but returned home to a state college his sophomore year. I told her I'd been around religion all my life and could handle the Jesus-thing. How different could he be? Oh my…
Our high school friend was very different than the red-headed, hot-tempered, foul-mouthed jock I'd liked so much in school. *Grin* And he was different than my "Bible-thumping" family. He didn't argue theology or give me a set of rules to follow. He talked about Jesus as if they were close friends. The Jesus I saw in my soon-to-be husband changed my heart, my future, and my eternity.

What surprised you most in your research for Love in a Broken Vessel? What charged you - touched your Soul?


This is a picture of the last installment of research books—those I begged the librarian to keep for a third renewal period:
One of my first steps in research is laying out the timeline for the character's ages—their lifespans and major life events—and let the storyline unfold. The most surprising discoveries often come when I see who is actually alive, and at what age, during the lifespan of my main characters.
In Broken Vessel I was amazed at some of the prophets that were contemporaries of Hosea and those who would have been a generation older or younger. The idea that Hosea might have learned a thing or two from Amos and Jonah seemed fascinating. And my heart ached a little when I considered how Isaiah and/or Micah might have felt, watching Hosea's difficult ministry before they ever received their own calls.
Perhaps the most poignant lesson came in wrestling with how I would portray Yahweh's voice to the prophets. How would Hosea hear Yahweh speak? Would it be the same way Jonah heard? What about Amos, Isaiah, and Micah? Would Gomer hear Yahweh speak? Keeping in mind that our God is the same yesterday, today, and forever, I wanted to convey to readers that Yahweh still speaks—can still be heard by you and me. It was both a challenge and a privilege to create God's voice to the prophets and to ordinary people in the story. I believe I might have heard a whisper or two myself…

What do you hope readers take away from this novel Love in a Broken Vessel?
In every biblical novel I write, my primary goal is to ignite a spark or fan into flame a reader's desire to search God's Word for the REAL story. I hope the historical research gives readers a context in which they can better understand the characters' circumstances. I pray that my imagination creates an intriguing backdrop for suspense and/or drama to keep them engaged. But the Truth is what matters, and for that, a reader must return to God's Word and read it with new eyes.
I hope readers will glean several themes from Love in a Broken Vessel as well. Hosea's repeated forgiveness can be seen as weakness—as can Yahweh's—when, in truth, it shows a depth of mercy beyond compare. God's nearness, when He seems far away, is another strong lesson; as well as the many ways He expresses Himself to us—as many different methods as there are people to hear Him!
(Ann Shorey, Laura Frantz, Bonnie Leon, and I were honored to join together for a
Northwest Revell
-team book signing on LifeWay's National Fiction Day)
Can you give us a peek into what you're working on right now? When will it be out? (no cover art yet)
My current WIP with Revell is titled, The Shadow of Jezebel, and will release March 2014.
Princess Jehosheba (Sheba) wants nothing more than to please her Baal-worshiping abba, Judah's King, and his first wife Queen Atalyah, the daughter of notorious Queen Jezebel. But when a mysterious letter from the dead prophet Elijah predicts doom for the king's household, Sheba realizes her dark skills as Baal's priestess reach beyond the world of earthly governments. When both light and darkness align, forcing her to marry Yahweh's high priest, Sheba enters the unknown world of Yahweh's Temple. Her husband shows her Yahweh's truth and a love beyond hope, but can Sheba overcome Jezebel's lingering torment? Can Yahweh use a fallen priestess to shine the unquenchable light of His love to faithless Judah? The Shadow of Jezebel—Meet the woman who saved a king, delivered a nation, and preserved the Light of the World.

What do you look forward to about having grandchildren? What books will you want to read to them first and/or already reading to them? Any pictures you want to share if you already have grandchildren?



We were blessed with two grand-daughters (then ages 5 and 7) when our older daughter married a wonderful young man in 2011, but we learned right away the heartbreak of grand-parenting from a distance since we saw them in the summer and on certain holidays. Now that both our girls are married with new babies (June and December of 2012) and are living in
Salt
Lake
and
Detroit
, the importance of long-distance relationship building with our grandkids has doubled!
We purchased a wonderful book called,
The Kissing Hand
¸ for our older grand-daughters last summer. The premise of the book is that Mother Raccoon kisses the palm of her baby raccoon's hand, and anytime he's away from her and feels homesick, he can kiss his palm and feel close to her again. This was a wonderful concept for our "big girls!"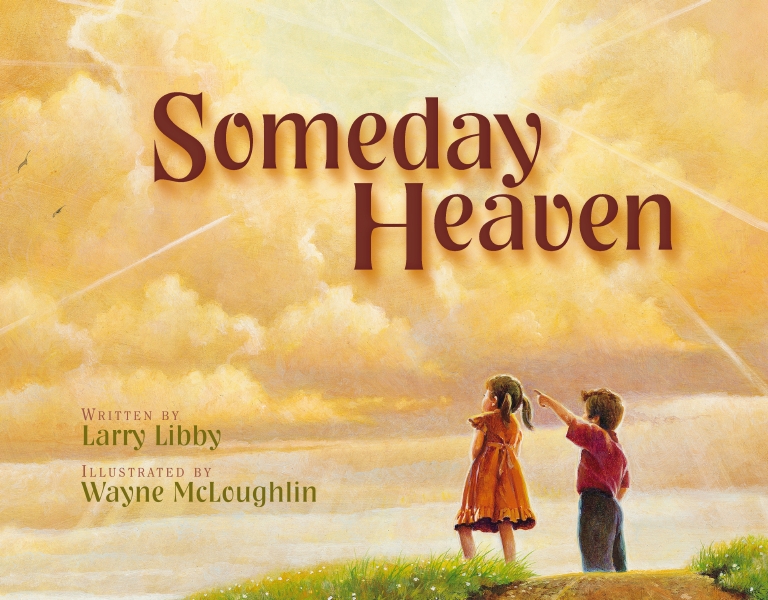 Another children's book I'll always keep on my bookshelf is called,
Someday Heaven
, by Larry Libby. My dad passed away last August, and let's face it, death visits all our families at some point. This is a great book to answer some of those innocent childhood questions like: Where is heaven? How long does it take to get there? Will my dog go to heaven?
I'm not able to share photos of our older grand-daughters, but I've included a picture of our newest grand-babies Each one is such a joy!
Nora:
Maybe next time. This is a sweet picture of you and these precious little ones!
FUN QUESTION I JUST HAD TO ASK
What three things would you rather not live without? (Besides friends and family)
Coffee
Coffee creamer (in a recent writing getaway, my husband had to make an emergency pit-stop three days into the retreat because I ran out of creamer…I'm serious about my coffee…)
Lindt WHITE chocolate truffles

Nora: I agree with you about creamer, I only drink the coffee to make the creamer warm. My favorites at the moment are Almond Joy and Pepperiment Mocha - Just saying!
What do you read to escape, relax, or just have fun?
Biblical fiction (believe it or not—I LOVE biblical fiction)
Anything written by Laura Frantz, Francine Rivers, and Susan May Warren
Does Pinterest count?
Movies are my go-to escape agent, and as I get older, I forget them more quickly—so I can watch them over and over and enjoy them every time!
What movie affected most you when you were young? If you didn't watch movies what books affected you most?
Wow! This dates me…As a kid, I watched a lot of Doris Day re-runs. I loved how she "glowed" on camera. She always seemed so happy—and happy about being NICE! "A Touch of Mink" was one of my favorites. ;)
Our family loves movies. Some of my favorites are Dances With Wolves, Braveheart, Gladiator. I enjoy a wide variety: P.S. I Love You, Shawshank Redemption, Forrest Gump, Father of the Bride…lots more!
A friend of yours has a time travel machine and will let you have it for awhile. What would you do with it? Where would you go and what would you do?
I would go back to the Garden of Eden and build an impenetrable, razor-wire fence around that Tree of the Knowledge of Good and Evil! And then I'd give Eve a blow-by-blow of the childbirth process—after the Fall! Let's see how good that fruit looks when she hears about 36-hour labor and NO epidurals! (I'm only a little bitter…)
Nora:
You crack me up Mesu!! Grin!
You are shipwrecked on an uninhabited tropical island with a group of Christians – all friends and relatives of yours. You all have to work as a team to survive. Many roles have to be filled. Which role do you think you'd play?
I'd do the most boring, repetitious, sedentary job on the island—sorting sea shells, whittling spears, weaving baskets. With the health issues I face, sitting in one place, concentrating on a single task, having lots of time to think and reflect—sounds like a little slice of heaven actually. *grin*
Thanks for stopping by and helping us get to know you and your books. I'm THRILLED that Revell is giving away 5 copies of your book.
ALL ENTRIES for this giveaway opportunity are to be made at The Book Club Network www.bookfun.org
See you there!!
THANKS AGAIN MESU!! Loved this interview! Fun!