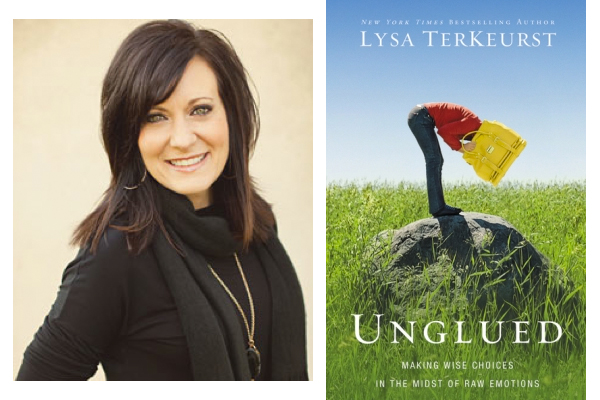 UNGLUED
By Lysa Terkeurst
Published by Zondervan
ISBN#978-0-310-33279-4
198 Pages
Back Cover:
God gave us emotions to experience life, not destroy it! Lysa TerKeurst admits that she, like most women, has had experiences where others bump into her happy and she comes emotionally unglued. We stuff, we explode, or we react somewhere in between. What do we do with these raw emotions? Is it really possible to make emotions work for us instead of against us? Yes, and in her usual inspiring and practical way, Lysa will show you how. Filled with gut-honest personal examples and biblical teaching, Unglued will equip you to: Know with confidence how to resolve conflict in your important relationships. Find peace in your most difficult relationships as you learn to be honest but kind when offended. Identify what type of reactor you are and how to significantly improve your communication. Respond with no regrets by managing your tendencies to stuff, explode, or react somewhere in between. Gain a deep sense of calm by responding to situations out of your control without acting out of control.
Review:
People are coming unglued all the time how do we handle this? It doesn't have to mean the end of the world but losing it does make us look at the situation and life a little differently. It makes us look at what is going on inside us and of those around us! I love the honest and transparent approach Lysa takes in this book. She gives examples from her own life where she came unglued. For example she shares this: "Why had I become completely unglued about bathroom towels? Towels, for heaven's sake. Towels! …I hop out of the tub and reach for the freshly laundered towel I hung on the rack the day before only to discover it isn't there. Ugh. So, I wind up using a hand towel. And while using said hand towel, I am muttering under my breath, "I'm banning the girls from our bathroom." I can imagine this scene, can you? Ever happen to you! (Not with towels but with other things lacking in the bathroom when I need them! Grin!)
I also like how she admits,"I know what it's like to praise God one minute and in the next minute yell and scream at my child." This statement goes to show you that we are ALL a work in progress (even bible teachers. Grin!) We are on a journey with God to help us with the many challenges that we face daily, hourly some days. I like how Lysa puts it when she says, "Imperfect changes are slow steps of progress wrapped in grace…imperfect progress."
This book will help everyone to face life's challenges by taking once step at a time. This book shows we will not become perfect in this life, no matter how hard we try. Lysa reminds us we are not alone but can encourage each other in our walk. I like how Lysa puts it "I can face things that are out of my control and not act out of control…. God gave us emotions so I could experience life, not destroy it."
Lysa gives practical ways to help us cope in a crazy world and not go crazy with it! This book is easy to read, funny in parts and filled with hope. I highly recommend it!
Nora St.Laurent
TBCN Where Book Fun Begins!
www.bookfun.org