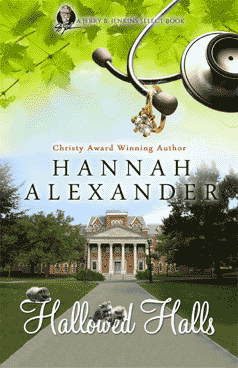 Published by: Christian Writers Guild
Back Cover:
When Dr. Joy Gilbert is fired from a lucrative job in the city by an employer who expected more than she cared to give him, she returns to her small hometown of Juliet, on the bank of the Missouri River. She arrives in the middle of the night, and her former employer's fifteen-year-old daughter, Tressa, pops out of the backseat, refusing to return home to divorced and broken parents. Minutes later Joy encounters Zack, who broke their engagement last year without a good explanation, and he's still very much single. When she finally arrives at her mother's house, it's to find Molly sick and broke, without electricity, as she cares for dozens of abandoned animals.

Deeply in debt from school loans and mortgage payments on a house in the city she never wanted, Joy must have a job, and the only position available in this town is working in the ER where Zack is the director. They must find a way to reconcile, and their work together becomes more vital when Tressa begins having unexplained fainting spells that grow worse over time.

Can Joy pull her life together and allow her wounds to heal as she tries to help the ones she loves? Can she face the secrets that come out as she and Zack fight Tressa's life-threatening illness? Come visit the charming town of Juliet, Missouri, where family and friends ensure no one ever feels alone, and heroes fight for the health and safety of those in need, in Book One of the Hallowed Halls Series, written by award winning author, Hannah Alexander
REVIEW:
I'm thankful for a review copy that introduced me to Hannah Alexander and a fun, heartfelt story. I instantly connected with Joy, the main character and how she is navigating a life she didn't expect to be living. Her whole life was turned upside-down when fiancé Dr. Zackary Travis broke their engagement for no apparent reason.
Joy then took a job out of state to get away from Zack and give her a break from her mother, Molly too. Things were going well at her new job until she decided to take a few probono clients at the pain clinic. It was something they had talked about her doing. The probono work; then the final straw for her boss was the fact she wouldn't give into any of his bosses sexual advances. She was serious about a medical career, she wanted nothing else! Joy's Boss fires her when she refuses him one more time!
More surprises unfold for Joy when she arrives at her mom's house unannounced. Tressa – daughter of her x-boss pops out from behind the driver's seat! Oh, wow, her xboss will blow a gasket about this development. She didn't look forward to making the call telling him about his daughter.
Joy's mother Molly works part time at the hospital says there's an opening but she'll have to talk to her x-fiancé Zack to get more information.
Joy needs a job fast. she'll talk to Zack to secure employment.
More difficult communications are held between Joy and Tressa's parents and then Tressa and her parents. Tressa's family were all hurting each other because of the divorce. Constantly fighting was not the way Tressa wanted to live. She needed a safe, peaceful, place and someone to talk to.
Tressa's parents agree to let her stay the summer with Joy to give them time to work things out. Joy and Molly are excited about their summer until Tressa becomes sick. They start running tests, Joy seeks Zack's help in discovering what's going on with Tressa!
That's when the fun begins! Zack and Joy find time to talk through their past hurts and see that they might have a hope for their future. Each struggles with their faith, God's plan for their lives and the church.
Zack validates Joy, "You took a verbal beating when you left your old church…There are always tares among the wheat in this world. Don't let the tares take over the church!...I know it's hard, but don't let the hypocrites steal the faith you have in God."
I liked how this author naturally wove in the spiritual theme throughout this story! I liked how this author dealt with forgiveness of ourselves, how we extend it to others and forgiving the church. Unconditional love is hard to received and give away. The only one that can give this kind of love to us is God!
This was a fun read with feisty characters I enjoyed. There are some surprises for readers too. I'm going to check out more books by this author.This is an enjoyable read and would make a good book club pick.